Power Stories: The 8 stories you MUST tell to build an epic business.
Every business has a story to tell. In fact, it has 8.
What are Power Stories? What makes them so effective? And why do you need eight of them? Prepare to harness the lost art of storytelling as you transform your brand into an icon and your customers into loyal advocates!
What this book will do for you:
Inspire you with the 8 essential stories you need to build your business. You'll learn how to apply them to your business, you'll be guaranteed to knock the socks off your customers, colleagues and clients!
Boost your business and build your profile by unearthing Power Stories you didn't even know you had.
Help you to connect authentically with people and seal the deal through the awesome power of storytelling.
Reveal the very best places to broadcast your stories on both traditional and social media platforms.
Show you how to add impact to your stories without resorting to car chases or explosions.
Entrepreneurs, intrapreneurs, game-changers or candlestick-makers. Power Stories is THE essential companion for anyone wanting to build an epic business, recharge their personal brand and take a big yellow sledgehammer to their marketing.
When you start to tell the right stories, incredible things start to happen!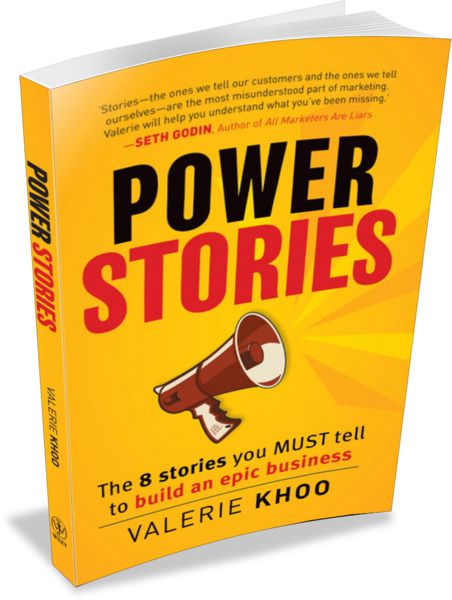 If you've already purchased the book, you can access your exclusive bonuses below.
I'm excited to provide you with the exclusive templates which were referred to in "Your Actions" in most chapters of Power Stories: The 8 stories you MUST tell to build an epic business.
My hope is that they will get you thinking, get you inspired and get you to the point where you're ready to tell your own Power Stories with confidence!
Remember to bookmark this page if you'd like to come back to download any of the resources.
Your password is the second word in Chapter 3.
(Please note the password must be typed in lowercase)